"Our goal is to provide an attractive and engaging format in which to set a clear and uncompromising gospel presentation"
Barry Sprott (Founder)
Evangelistic literature that people are likely to read. Tracts Christian
TELit@OPAL design, produce and publish evangelistic leaflets in a wide range of titles. They are suitable for all ages, interests and occasions. Each one starts from where people are and introduces the gospel from a perspective that they already have an interest in. Use that interest point to pick a title for the people you know.
Select from the featured folders or pick a folder theme below:
Featured folders
Please click on the folder to order and add the quantity you would like.
TELit Now
TELit is now open again and we look forward to hearing from you and hearing about the ways in which the folders are being used
This year you can add  typewritten contact details or a handwritten message on the folders.The same overprinting charge is applicable to both options. Put it on a white unfolded piece of paper in a good fine felt tip or broad pen. Keep the printed area to 80mm by 80mm for seasonal titles.
Do you work with immigrants? Contact the office to find out what literature is available for your language group.
Please pray for literature being used in Portugal and Bulgaria The literature for Angola has now arrived at Luanda.
Would you add a link to the TELit website on your church website? It would help when others are searching for good evangelistic literature.
Download our latest catalogue by clicking on the image below: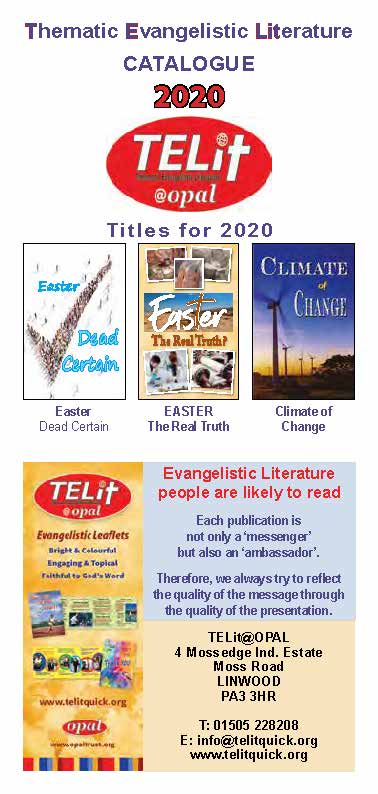 TELit Tips
Expect the Unexpected (Air Travel)
We know of a lady who led a travelling companion to Christ on a long-haul flight to South Africa using a 'Welcome to Edinburgh' folder. This may be the exception rather than the rule, but an expectant, prayerful and well prepared Christian traveller will often be able to report many very interesting and exciting encounters. With this in mind, TELit produced a special folder for air travellers entitled 'A Friend in High Places'. Just the thing to take with you on your next flight! How often do I travel with work companions or to whom could I give a relevant folder? Could I take some 'A Friend in High Places' the next time I fly anywhere?