"Our goal is to provide an attractive and engaging format in which to set a clear and uncompromising gospel presentation"
Barry Sprott (Founder)
Evangelistic literature that people are likely to read.
TELit@OPAL design, produce and publish evangelistic leaflets in a wide range of titles, suitable for all ages, interests and occasions.
Select from one of our folder themes below:
Featured folders
Please click on the folder to order and add the quantity you would like.
TELit Now
The new folder for Christmas is called 'It's all in the Name'. It can be used in place of a Christmas card for friends who are not Christians yet.
This year you can add  typewritten contact details or a handwritten message on the folders.The same overprinting charge is applicable to both options. Put it on a white unfolded piece of paper in a good fine felt tip or broad pen. Keep the printed area to 80mm by 80mm.
There is plenty of stock of newer Christmas titles, but limited stock of the older ones, so order early if you have a particular title in mind.
Could you use the Harvest and Halloween folders to reach people in your area?
Could you use the folder 'Someone's knocking on your door' for door to door visitation? Knock on some doors and pass on the news of the best gift ever.
Do you work with immigrants? Contact the office to find out what literature is available for your language group.
The office will be closed from 14th-18th October 2019.
Would you add a link to the TELit website on your church website? It would help when others are searching for good evangelistic literature.
Download our latest catalogue by clicking on the image below: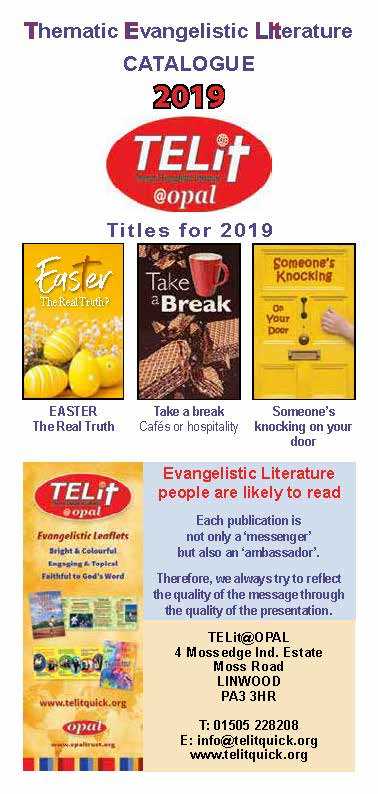 TELit Tips
Sporting Occasions
Sport can bring people together from many different backgrounds. Why not combine people's strong interest in their chosen sport with the gospel message? TELit have a wide range covering everything from football 'The Winning Goal' and rugby 'The Crucial Conversion' to extreme sports 'Ready to Risk it?'. These can be given to work colleagues individually, handed out at the sports ground, or in town on the day of an event. Why not ask local pubs or cafes for permission to put some on display around the time of a big sporting occasion in your town?